Jump to Section:
Overview
CZ GEN EPI supports genomic epidemiology analysis of viral pathogens. Each pathogen workspace has a Sample page where can see all of the samples you and members of your group have uploaded to CZ GEN EPI. The Sample page is your "home base" for operating within CZ GEN EPI, where you upload samples and launch phylogenetic analyses using Nextstrain and/or UShER. This page also includes important functions like search and filtering.
After reading this user guide, you will be able to:
---
Upload Samples
Upload samples for a given pathogen through the Sample page.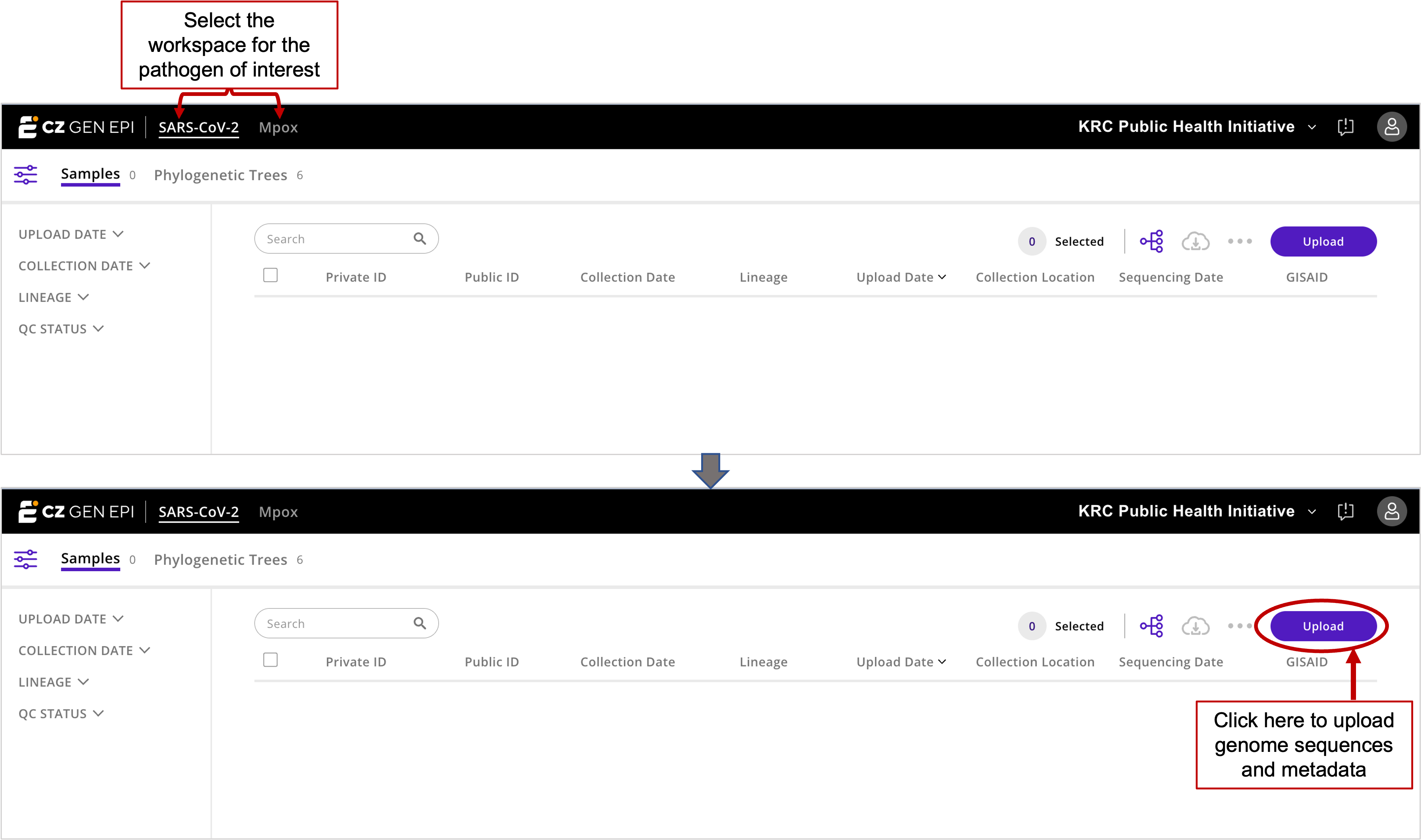 Easily upload samples from the Sample page
---
Keep Track of Samples
The Sample page provides general information about how many samples are currently uploaded in given pathogen workspace, their privacy status, and quality.

Example SARS-CoV-2 Sample page highlighting number of uploaded samples, privacy status icons and quality.
You can quickly glance the following information from your Sample page:
---
View Metadata
The Sample page displays available metadata for each sample.
Example SARS-CoV-2 Sample page highlighting metadata column headers.
The metadata includes:
---
Filter & Search Samples
You can filter the samples that appear in your sample list to easily search for samples of interest. You can also search directly for specific samples using the search box above the sample table. The search will try to match entries on any of the metadata fields.


SARS-CoV-2 Example Sample page highlighting filter menu and search box.
The available filters include:
---
Select Samples
You can select samples for downstream analyses by checking the boxes to the left of the samples. You can select all the samples showing on your sample table or select specific samples.


Example SARS-CoV-2 Sample page showing how to select samples. Note that the number of samples you have selected displays above the right-hand side of the samples table.


Example SARS-CoV-2 Sample page showing how to select all samples on your sample table.
---
Run Phylogenetic Analysis & Manage Data
After selecting samples of interest, you can run phylogenetic analyses and/or manage your data (edit, download, and/or delete samples).


Example SARS-CoV-2 Sample page highlighting icons for the following dropdown menus: Running Phylogenetic Analysis, Download, and More Actions.